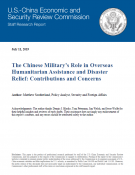 Over the past two decades, the Chinese People's Liberation Army (PLA) has expanded its involvement in humanitarian assistance and disaster relief (HA/DR) missions outside China's borders. Through its contributions to HA/DR, Beijing has provided important assistance to disaster-stricken populations and sought to burnish its image as a "responsible stakeholder" in the international system. At the same time, Beijing routinely allows political considerations to guide its participation in HA/DR missions, violating the humanitarian spirit of these operations and suggesting Chinese leaders may view HA/DR less as a global good than an instrument of influence. Moreover, the PLA has cooperated haltingly with international partners during these missions and at times willfully disregarded best practices for military participation in HA/DR. This report examines the drivers behind the PLA's increasing participation in HA/DR abroad; the impact, both positive and problematic, of the PLA's involvement in several recent multinational disaster relief operations; and the implications of the PLA's involvement in and approach to these missions for the United States.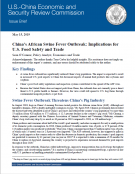 In 2018, China reported several cases of African swine fever, or ASF, a highly contagious disease that is deadly to pigs. The disease has now spread throughout China, where it has already reduced the country's hog population by more than 50 million, and throughout other countries in Asia. This report provides an overview of the ASF outbreak in China, the implications for U.S. exports of pork and animal feed products, and the risks posed to U.S. food safety and food security.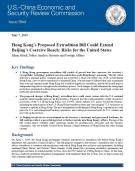 In April 2019, the Hong Kong government formally proposed an extradition bill that would—if passed into law—increase the territory's susceptibility to Beijing's political coercion and further erode Hong Kong's autonomy. The bill, which followed a minimal public comment period and could face a final vote before July 2019, would amend Hong Kong's laws to allow ad hoc extraditions to mainland China and over 100 countries and territories without mutual extradition arrangements with Hong Kong. In addition to further intruding into Hong Kong's affairs, the proposed bill could create serious risks for U.S. national security and economic interests in Hong Kong, and potentially violate several key provisions of the U.S.-Hong Kong Policy Act of 1992, which outlines U.S. policy toward the territory. This issue brief provides background on the bill and observers' concerns with the proposal, risks posed to U.S. interests in Hong Kong, and considerations for Congress.