12/08/2020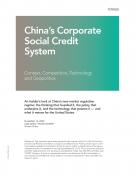 Body
Officially launched in 2014 and still evolving rapidly, China's ambitious Corporate Social Credit System (CSCS) comprises a nation-wide data-gathering effort intended to regulate corporate behavior. This report, prepared for the Commission by Trivium China, describes the policy background, present function, and ultimate vision for this system as identified by the Chinese Communist Party (CCP). The report documents the CCP's approach to integrating local, provincial and national data and records into centralized files to be used for assessing whether companies will be targeted for special incentives or punitive penalties.
The Trivium report states, "The scale of this data aggregation scheme cannot be overstated. CSCS files contain regulatory and administrative records contributed by at least 44 state agencies and their branch offices across every province in China. In a U.S. context, this would be roughly equivalent to the IRS, FBI, EPA, USDA, FDA, HHS, HUD, Department of Energy, Department of Education, and every courthouse, police station, and state agency sharing records across a single platform."
The Corporate Social Credit System presents a new source of risk to foreign companies operating in China and could magnify the impact of arbitrary enforcement or regulatory bias against foreign companies. In addition to the findings of the report, the Commission believes the CSCS adds considerable market access risk for foreign firms, especially as Chinese firms and trade associations are invited to contribute to data collection and blacklist enforcement.
Disclaimer: This research report was prepared at the request of the U.S.-China Economic and Security Review Commission to support its deliberations. Posting of the report to the Commission's website is intended to promote greater public understanding of the issues addressed by the Commission in its ongoing assessment of U.S.-China economic relations and their implications for U.S. security, as mandated by Public Law 106-398 and Public Law 113-291. However, it does not necessarily imply an endorsement by the Commission or any individual Commissioner of the views or conclusions expressed in this commissioned research report.