09/20/2022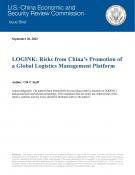 Body
This staff issue brief reviews how widespread adoption of a Chinese platform for sharing logistics information could create economic and strategic risks for the United States and other countries. Now cooperating with over 20 global ports, the National Transportation and Logistics Public Information Platform, branded as LOGINK, provides users with a one stop shop for logistics data management, shipment tracking, and information exchange needs between enterprises as well as from business to government.
State control of the LOGINK platform potentially provides the Chinese Communist Party access to data collected and stored on the platform and could enable the Chinese government to gain insights into shipping information, cargo valuations via customs clearance forms, and destination and routing information.
The issue brief concludes with considerations for Congress.