02/28/2023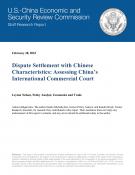 Body
This staff research report explores the "one-stop shop" dispute resolution center for Belt and Road Initiative (BRI)-related commercial disputes. The report concludes with implications for the United States.
Key Highlights
The China International Commercial Court's (CICC) establishment in 2018 is part of a broader push by the Chinese Communist Party (CCP) to reshape international norms in its favor. While the CCP cites the CICC as a new step in the evolution of China's legal system, the court's basic structure and the fact that it is directly under CCP control mean that foreign parties, including U.S. parties, are at risk of biased judgments.
China's government has cited the CICC as evidence of the country's increasing openness. In many respects, however, the CICC prevents effective foreign participation, including by preventing foreign lawyers from participating in proceedings. The unusually restrictive nature of the CICC compared with other international dispute resolution forums has raised concerns that the CICC will be biased in favor of Chinese parties.
While the CICC has only adjudicated a handful of cases so far, the court represents another avenue for the CCP to advance its discourse power, allowing for the promotion of Chinese legal venues and approaches alongside Chinese-funded projects abroad. This could allow the CCP to legitimize its dual foreign dispute system, promoting international enforcement of Chinese judgments while reserving the power to disregard foreign judgments when the CCP deems them to be against its interests.