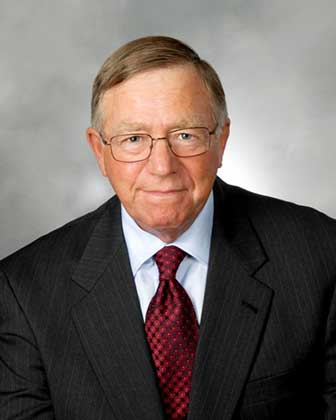 Dr. Larry M. Wortzel was reappointed by House Speaker Paul Ryan for a term expiring on December 31, 2018. Commissioner Wortzel served for 32 years in the United States Armed Forces, three years in the Marine Corps followed by 29 years in the Army. A graduate of the U.S. Army War College, Commissioner Wortzel earned his Doctor of Philosophy degree from the University of Hawaii-Manoa.
Commissioner Wortzel's military experience includes seven years in the infantry as well as assignment in signals intelligence collection, human source intelligence collection, counterintelligence, and as a strategist. He served two tours of duty in Beijing, China, as a military attaché and spent twelve years in the Asia-Pacific Region.
Commissioner Wortzel is the former Director of the Strategic Studies Institute at the U.S. Army War College. Concurrently he was professor of Asian studies. He retired from the U.S. Army as a colonel at the end of 1999. After his military retirement, Commissioner Wortzel was director of the Asian Studies Center and vice president for foreign policy and defense studies at The Heritage Foundation.
Commissioner Wortzel has written or edited ten books and numerous scholarly articles on China and East Asia. His books include Class in China: Stratification in a Classless Society; China's Military Modernization: International Implications; Dictionary of Contemporary Chinese Military History; and The Dragon Extends its Reach: Chinese Military Power Goes Global.
He and his wife live in Williamsburg, Virginia.